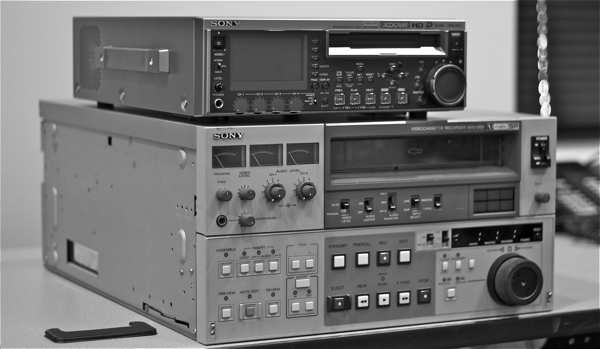 This week I've been working on a video editing project. I am by no means a seasoned video editor, but I've had a little experience here and there. I always enjoy a chance to practice editing.
The most interesting part of this project was the initial file transferring. The footage was all on Beta SP tapes, and in order to edit on a computer I needed to convert them to a digital format. I accomplished this by recording the Beta tapes to XDCam discs. My video experience has almost entirely been in the digital realm; I have very little experience in the analog world.
I always enjoy these types of projects, where old and new technology are used together. It's fun to compare the old and new, from size and weight differences, to workflow and convenience. As technology becomes more powerful, it's easy to forget how far we've come. It can be difficult to imagine how people got things done in the past, and it can be easy to take things for granted in the present.
Look for the finished video in an upcoming post on our site.