Posted by Paul Lawless,  August 9, 2012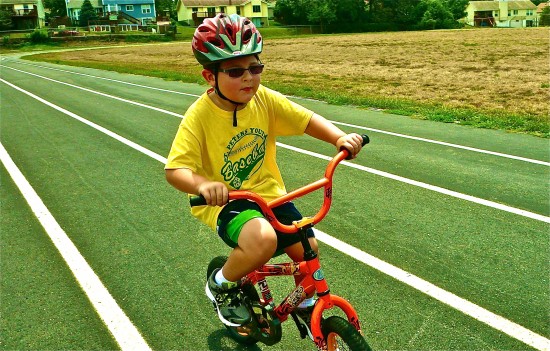 My family has been working on getting our son to make the jump from training wheels before his first day of kindergarten. It's been quite a learning process, with many peaks and valleys, but I'm proud to say that last week he did it! Go Seamus! Just like in my own childhood experience, he took off pedaling with me holding on until I couldn't keep up anymore and let go. I watched as he picked up speed and had trouble trying to stop, finally throwing his feet down to the ground. (Next week's lesson – Brakes: how they stop you and not put holes in the soles of your shoes.)
This "first" with my son got me thinking about all the new endeavors we've been going through here at Kaufman Broadcast. Our staff roles have been somewhat in flux lately, with almost everyone taking on new responsibilities. We all show reluctance to foreign tasks at first, but I've seen a high level of success with everyone, just like my boy. We now have new endeavors such as blogs, project management, video editing, and a new accounting system all being skillfully managed by people that six months ago focused on other tasks.
In the fast paced landscape of modern day business, it's time to go from walking with our feet firmly on the ground to riding our bikes with the wind whooshing by.
What's clear from both of these stories is that life is full of Firsts, like it or not. Whether you're 6 or 36, these new challenges can introduce high levels of fear and anxiety, but over time we find positives that make us all better than when we started.