Posted by Mike Sanford,  July 6, 2012 
Browsing through a list of internet news stories this week, there was one special article that caught my eye. It was a story based on the demolition of Mellon Arena, also known as Civic Arena, located in Pittsburgh, Pennsylvania. The article featured a time-lapsed video that snapped periodic images from above. It logged the demolition in its final nine months of existence. You can see the time-lapsed video here:
Due to its dome shape in nature and its home of the NHL's franchise Pittsburgh Penguins, Mellon Arena was often referred to as 'The Igloo' by its devoted fan base of the city of Pittsburgh. 'The Igloo' will always hold a special memory for me and my early career in broadcasting.
Prior to the days of Kaufman Broadcast, I could count on one hand the number of arenas and stadiums that I had the pleasure of witnessing firsthand. Since then, that number has grown exponentially. The architecture of each stadium in this country fascinates me. I enjoy all of the venues' differences in characteristics. They all display their uniqueness in design.  Each venue has been enriched with a long history of great memories. The great memories created for the avid fans that fill the seats. 'The Igloo' was no different.
During the 2009 NHL playoffs, Kaufman Broadcast was contracted through Vyvx to provide the HD Encoding for selected games. We handled the transmission from these venues to the Versus Network for specified dates. I had the great pleasure of traveling across the country for the months of April and May, and had been assigned as Versus HD Encoding Tech for a number of these games.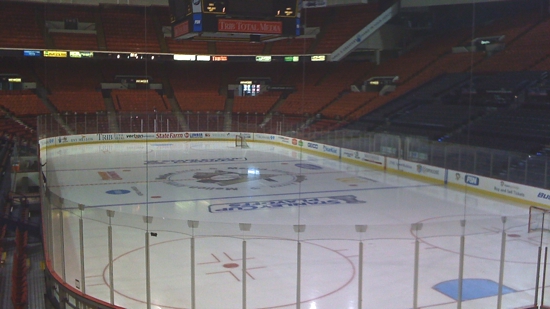 The Penguins were one of NHL's best teams in 2009. They ultimately went on to win the Stanley Cup that year. Most of my assigned games were for the Penguins' playoff push. I spent many hours at Mellon Arena during this playoff run. I can even recall working most of the Capitals / Penguins series that year. I traveled back and forth from D.C. to Pittsburgh encoding each of their seven games series. We continue to support Vyvx with HD Encoding services to this day.
Growing up a huge hockey fan, I followed the NHL like no other sport. I even played youth ice hockey that continued all the way through High School. So, as you could imagine, this was an incredible ride for me. To be a part of the broadcasts of these playoffs will forever hold a great memory for me. It's hard to see Mellon Arena go, but I know the new place across the street will become just as great.
Goodbye to 'The Igloo'.