The Boeing Company asked…"Can we uplink on an airport runway?"  The answer, of course, is YES! However, we'll need to park a 30 foot truck on a taxiway and install fiber, while at the same time staying out of the way of air traffic controllers!  Sound like a plan?  The answer once again is YES, and that's exactly what Kaufman Broadcast provided for rollout of the F-15 SA fighter jet.
We quickly deployed HD-1 onto runway Foxtrot Two Four-Six with Mike "call sign-Quiet Mike" Sanford in the cockpit manning the controls. His mission was to send back the awesome sight of an F-15 ground takeoff from the forward position on the airport tarmac.
C/KU Production Uplink HD-2 was in downlink mode feeding mission control at an undisclosed Boeing facility. Operated by Niels "call-sign-nFolken" Black, his mission…..to successfully deliver the signal.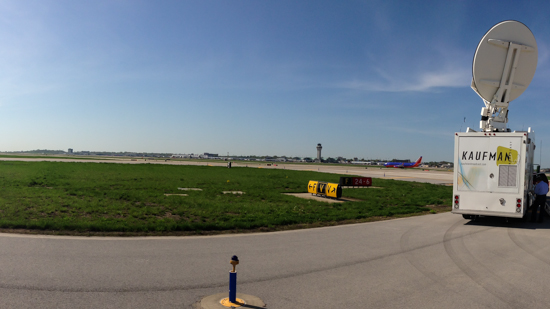 The operation was a success, the plane had a great take-off, with the pilot showing off some Top Gun maneuvers for the audience. We wish the Royal Saudi Air Force great success with its new fleet and congratulate The Boeing Company on a great achievement.