Posted by Mike Sanford,  August 15, 2012
Two events…three days…two cities separated by 510 miles…that kind of weekend is more common than you'd think here at Kaufman. In fact, that sort of travel-job-travel-job schedule is very common in the wider world of broadcasting. So, what made this past weekend a little different from the others? Both events were broadcasted using C-band frequencies. While I've done my fair share of C-band jobs, most of our jobs are still Ku-band, and two back-to-back C-bands is certainly unusual. It made me think about how much my job has changed since we starting using C-band…
My work with C-band began in September of 2010 when our hybrid uplink truck HD2 hit the road for its inaugural journey. Integrated by our own operators, HD2 continues to bring pride and joy to all the engineers at Kaufman Broadcast. Before 2010, every uplink event in my career at Kaufman had used Ku-band for transmission. That changed with HD2.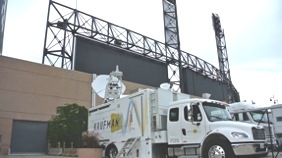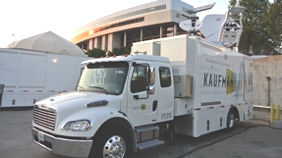 The 2011 football season was full of C-band uplinks. ABC's coverage of NCAA football was entirely broadcasted through C-band. In my ceaseless travels, I had the pleasure of visiting some Universities that I had never been to before. Ohio State, Illinois and Iowa State were just a few of the new jobs that the C-band capabilities were bringing in. The
MLB playoffs of 2011 – featuring the St. Louis Cardinals' historic playoff run! – gave us the opportunity to take care of Turner Broadcasting's C-band transmission needs.
This summer (2012), I've already been a part of several MLB games for TBS as well as the Kansas City Chiefs preseason games. It looks like this season will bring another full lineup of C-band jobs across the Midwest. With a new baby at home, I don't need to go anywhere to experience something new, but I'm still looking forward to the jobs that will take me to new stadiums and campuses, as well as some old favorites.
Here is a quick video of how I spent this past weekend. Friday night at Arrowhead Stadium for Kansas City Chiefs preseason football and then on to Chicago at U.S. Cellular Field for a White Sox game vs. the Oakland A's…
Switching HD2 into C-band mode is very simple and only requires a few steps. Changing the feed horn and altering settings in equipment will make it happen. All-in-all these C-band events have brought on new adventures for me as an uplink operator that roams the Midwest. While it's not really new to me any more, C-band jobs still feel somehow different and exciting. However, in the big picture, I suppose it's really the same thing as the Ku stuff…only different.