Kaufman Broadcast made it back to the Super Bowl! Live from New Orleans covering the game's forty-seventh edition that featured the Baltimore Ravens vs. the San Francisco 49ers.  This year's broadcast matchup featured two Comcast Sportsnet cousins: Bay Area for the San Francisco market and Mid-Atlantic for Baltimore. Comcast selected Kaufman Broadcast to coordinate a wide range of transmission services for a full week's coverage.  Production uplink HD2 was stationed at Woldenberg Park, with five discrete paths beamed simultaneously back to Comcast national studios and affiliates.  Breaking news, sound bites, reactions, and analysis filled the Comcast airwaves for the eight days that led up to Super Bowl Sunday. Here is a video sample courtesy of csnbaltimore.com.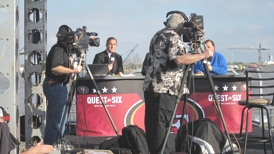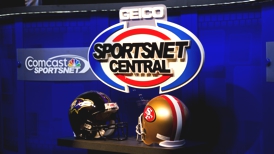 HD1 was also deployed to The Superdome where it did NOT lose power. Post game brought the thrill of victory to viewers in Baltimore, and the agony of defeat to those watching in San Francisco.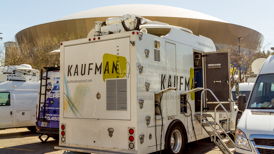 Did You Know: This was Kaufman's 2nd Super Bowl in the Big Easy. Our first trip was for Super Bowl XXXVI where we received some well deserved R&R that followed the 2002 playoff run of the St. Louis Rams.