Posted by Mike Witzel, May 22, 2012
It was Sunday, May 22nd, 2011 – I remember flipping on the TV that night and being greeted by an unscheduled news report: severe storms were in the area. I've always been interested in weather. I grew up in Southwest Minnesota, where people often say, "if you don't like the weather, wait 5 minutes". That night, the first line of thunderstorms was just rolling through St. Louis and I was interested in how the area where I live would be impacted. The weather folks at the local stations were giving reports of high winds, lighting, some "rotation" in spots… pretty normal for a St. Louis style Spring storm. I switched to The Weather Channel, where Mike Bettes was reporting live from a town that had just taken a direct hit from a tornado. That town was Joplin Missouri. I remember the initial pictures of people milling about and smoke rising from what appeared to be a fire in the center of the devastation. I watched in rapt disbelief for 30 minutes or so before my phone rang. The call was from Bill Kaufman: we'd just been booked by CNN to send a truck to Joplin.
My first action was to call Mike Sanford, our primary truck operator. I knew he had been camping over the weekend and I hoped he had gotten home before the bad weather and would be ready to hit the road. He said he would head to the shop and get rolling towards Joplin. Somewhere in the conversation, I suggested that we might want to send another operator. I'd been involved in breaking stories before; sometimes you end up working very long stretches and it would be nice to have a relief operator. We decided that Niels Black would ride to Joplin with Mike. Only a few minutes after sending them on the road, I got another call, this time from CBS, sending our 2nd truck to Joplin. I had already packed a bag, anticipating a second call.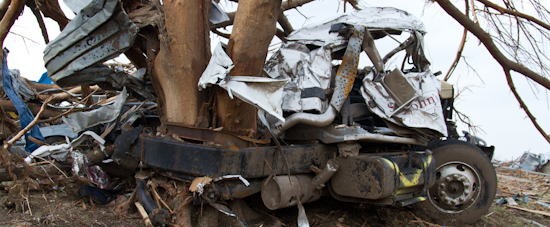 It was sometime after midnight when I passed through Springfield, Missouri. I started to see ambulance after ambulance after ambulance heading north towards Springfield. I knew then that this was going to be like nothing I'd ever experienced before.
I was sent to Missouri Southern State University where the Red Cross had set up a gymnasium with hundreds of portable cots for those who had been displaced by the tornado. There was some initial confusion about whether or not the Red Cross was going to allow us to do interviews with the people who were now taking up residence there. When they finally asked us to come back sometime in the middle of the day to reassess the issue, the decision was made to move to St. John's Hospital. It was now 3:30am or so. I remember it being pitch black, with no streetlights and no lights along the road. I came to a road block where a police officer opened the gate and told me where to go – he said I was on my own, but that several other news organizations had gone in before me. He also warned me that there were a number of power lines down across the roads but that he believed they had all been shut off. I pulled up to the hospital and parked right behind our other truck – it was good to know that we'd be close in case we needed anything from one another. I immediately started setting the truck up for live shots. We quickly had to face the fact that there was almost no cell service, since all of the towers in the area had been destroyed.
It took what seemed like 50 tries per line to establish IFB for our talent. Once you got a line, you made every effort not to lose it.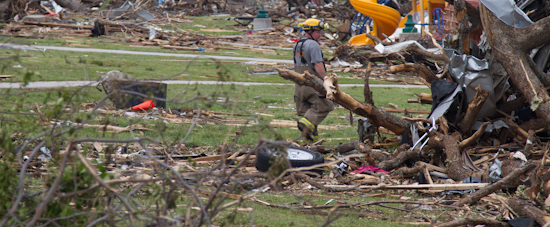 The next couple of hours passed by in a blur. Because it was dark, I still hadn't gotten a good grasp on the real extent of the damage. I knew it was bad – judging from the dimly lit parking lot and the pile of cars and trucks – but I had no idea how bad it actually was. As the sun began to creep above the horizon about 6am, I slowly took in the magnitude of the devastation… As far as I could see, what was once a densely populated neighborhood had been completely wiped away. For the next two days we did live shots around the clock, getting a couple hours of sleep at a time. It was truly a surreal experience.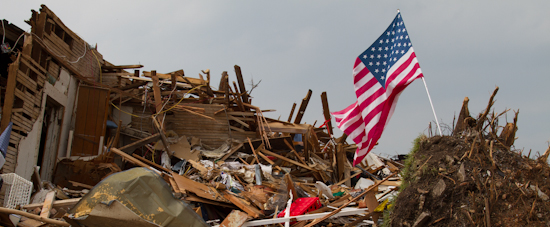 The stories poured in about loved ones that were lost and those who had been saved from the rubble, hospital workers who had set up a triage unit in the worst of conditions, and people who had travelled half way across the country to volunteer. 161 people lost their lives in the tornado and it's immediate aftermath – one police officer was struck by lightning the following night working just a couple blocks from where we were setup. I've worked on literally hundreds of different news stories in my 10 years at Kaufman Broadcast, but none of them have stuck with me like Joplin. I will never view tornadoes in the same light again. I saw cars disfigured to the point of being unrecognizable as cars, dumpsters ripped in half and crumpled like a soda can, and homes leveled to the foundation.
Today those homes are being rebuilt, businesses are reopening, and people are getting back to "normal," but I imagine Joplin will never be the same as it was. The scars run too deep. Still, I believe there are inspiring lessons to be learned. Much like the devastation that I witnessed, the generosity that poured into Joplin in the aftermath of the tornado is something else I will never forget.