You Deserve MPEG4 HD For Your Next Uplink……Anywhere in America!
The 2012 Presidential election campaign is in the home stretch, ensuring a busy time for broadcasters. With both the GOP and DNC conventions a fading memory, the remaining weeks are certain to bring great debate, breaking news and live reporting, all leading up to Election Day on Tuesday, November 6th.
Kaufman Broadcast has a long history of covering politics including caucuses, rallies, debates, spin room and election night coverage. It's in our blood. We were live in Kansas City with candidate Barack Obama, when he reacted to his wife's speech at the DNC. Kaufman also provided transmission and coordination for the campaign at all four Presidential debates, as well as the Vice Presidential debate.
Senator John McCain, the Republican Presidential nominee was a guest at our Kansas City studio for a Satellite Media Tour during the final stretch of his campaign.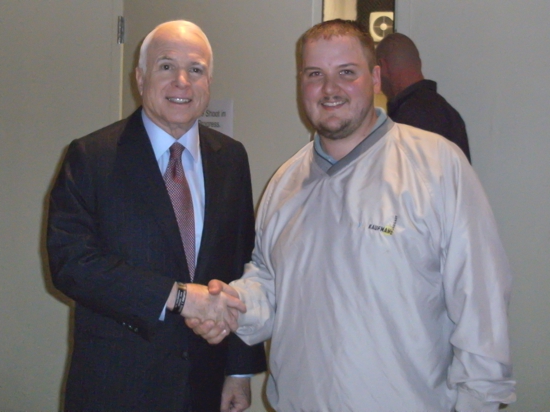 One of the exciting aspects of a Presidential election year is the technology evolutions. In 2008, we had a new way of collaborating using cloud technology, known as Google Docs. This election cycle, analog broadcasting has disappeared, replaced with MPEG-4 HD. Sony XDCAM is our tapeless recording standard, and fiber transport has replaced copper cabling.
We are looking forward to the next upcoming weeks. Kaufman uplink trucks, ENG crews, and LIVE studios are ready for the final push before Election Day.
FUN FACT – Can you name the young man shaking hands with Senator Robert F. Kennedy?