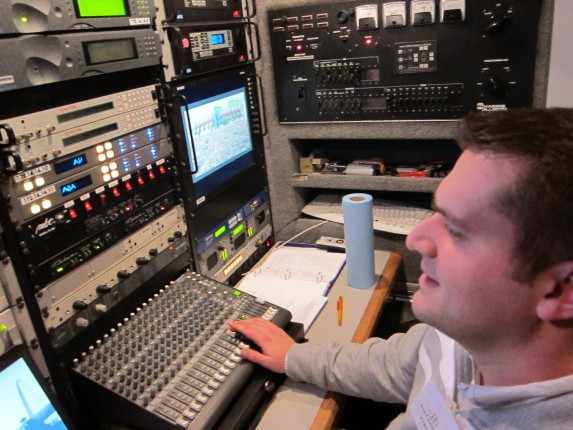 Mike Sanford, or just Sanford as we affectionately call him, is our primary uplink engineer.  Sanford joined Kaufman Broadcast in 2007, after receiving an Associate's Degree in Recording Arts and a BA in Entertainment Business from FullSail University in Orlando, FL.  He was trained in broadcast engineering by our chief engineer Mike Witzel.
Repeatedly lauded for his  go-getter attitude and likable personality, Sanford is always ready to lend a helping hand.  Travel is an integral aspect of his job and (luckily) it's also his favorite part.  Sanford enjoys "the open road," living by his own schedule and attending a variety of sporting events.  His enthusiasm, reliability and readiness to pick up and travel at a moment's notice makes him an invaluable part of our engineering team.
Sanford spends his free time with his wife Erin, and the couple welcomed their first born child, Trenton Sanford, on June 25th, 2012.  Sanford – a huge sports fan – roots for the spectrum of St. Louis teams, and plays golf in his leisure time.  He also plays guitar and enjoys rock and blues music.
---
mike.sanford@kaufmanbroadcast.com
Office: (314)533-6633 ext.201
Cell: (314)313-6835